Gives Credit to Westwood Orthodontist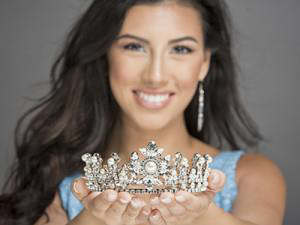 WESTWOOD, MASS. (Issued Summer 2018) — In 2014, as a Westwood 7th grader, Kiersten Khoury won the title of International Junior Miss New England Pre-Teen.
At the time, she wore braces. She and her mom credited Dr. Andrew Chase of ARCH Orthodontics in Westwood for making the straightening process smooth and comfortable. ARCH's office is at 745 High Street.
Rather than allowing braces to stand in her way, Kiersten embraced them. Her mom Dr. Dawn Khoury said, "To have the confidence on stage in front of hundreds of people and present yourself with confidence — and being interviewed by judges — are skills that will benefit Kiersten throughout her life. Much of this starts with a beautiful, confident smile."
In 2015, she became Miss United States Massachusetts Junior Teen. Last November, Kiersten, now 17 and a Westwood High, senior, placed in the 'Top 15' in the Mass. Teen USA Pageant. In June, she won the title of Miss Massachusetts Teen America. Judging in the 14-18 age category is based on an interview, formal wear, and fitness. In November, she'll compete again for Miss Massachusetts Teen USA, which leads to the national Miss Teen USA Pageant.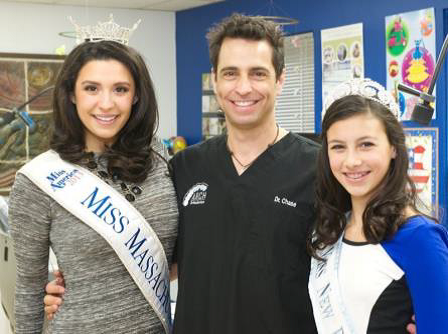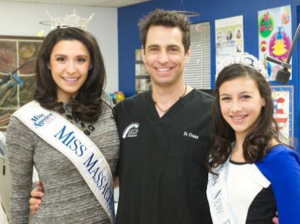 Three years ago, when the wide-eyed seventh grader learned that ARCH was the 'Official Orthodontist of Miss Massachusetts," she asked if there was a way to meet the reigning Miss Mass., Meagan Fuller. Dr. Chase and ARCH's PR consultant Stan Hurwitz helped make it happen. Their meeting helped to bolster her dream. (Photo left to right: Meagan Fuller, Dr. Chase, Kiersten Khoury)
Dr. Chase has worked with thousands of patients from 4 to 8 and says people gain self-confidence and smile more when their teeth are properly aligned: "A beautiful smile can make a difference in your life – psychologically, socially, professionally, and from a health standpoint."
Dawn Khoury says, " We're grateful to Dr. Chase who made our daughter's natural smile even more beautiful. I continue to make referrals to ARCH. Our 14 year-old son Colin is having his braces removed soon, and 10 year-old Kyler will get braces soon." She and her husband regularly refer patients with jaw and neck pain who come to their Khoury Chiropractic Centre for Health & Wellness in Dedham to ARCH for TMJ disorder treatment.
Community service and volunteering are important to Kiersten. She volunteers with Toys For Tots, the Lupus Foundation, the Make a Wish Foundation, Relay for Life, the Westwood Friends Network, and the Westwood High Friendship Club. She says, "I try to be the antithesis of what everyone thinks a pageant girl is. I can show people that it's not all about the hair, makeup, and fake eyelashes. It's really about the person you are. If I can impress even one person with the way I speak or the way I carry myself, that's the most important thing." And then she flashes her beautiful, infectious smile.
In the recent 'Hometown Best 2018 Readers' Favorites poll, ARCH Orthodontics took honors as 'The Best Orthodontist in Westwood.' As part of its 44th year of service, ARCH is offering free consultations for all ages – a $500 value – and no-interest financing. The practice gives a courtesy discount to those currently serving in the military, veterans and members of their immediate families. A similar offer is available to Town of Westwood employees and their immediate families. For more info or to schedule a free consultation, call (781) 329-1150 or visit www.archorthodontics.com. ARCH has 9 offices from Boston to Hyannis.
– By Stanley Hurwitz / 508-269-0570 / stanhurwitz@gmail.com