"You're never too old to have a beautiful smile!"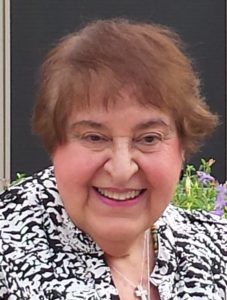 BRIDGEWATER, MASS. (Issued Fall 2017)  — Beverly Albaugh may be one of the most senior braces patients in the world.
Earlier this year, awakened suddenly from a deep sleep, the normally spry 83 year-old rolled against her nightstand, fracturing her skull and breaking four teeth. "At the hospital, the oral surgeon did a good job putting my teeth back and wiring my mouth to hold everything in place," she says, "but when I went to my long-time dentist, Dr. Richard Harrison in West Bridgewater, he told me the ideal way to eliminate the uneven spacing and bring back my beautiful trademark smile would be through proper orthodontics. He recommended Dr. Andrew Chase of ARCH Orthodontics that has an office in Bridgewater."
Dr. Chase suggested Invisalign, almost invisible braces that gradually move teeth to their optimal locations. Patients are advised to wear them 22 hours a day, taking them out only to eat, brush and floss.  Mrs. Albaugh had never heard of Invisalign. Most Invisalign patients are teens or adults ranging in age from their 20s to 40s.
A former teacher, Mrs. Albaugh is in her second career as an Electrologist. "A major issue had been dealing with the time between clients," she says. "I have a sweet tooth so, for years I filled that waiting time by snacking. Over the years I gained a lot of weight and developed diabetes."
"But on a recent visit to my regular doctor, he was impressed," she notes, "Not only had I lost 12 pounds, but my diabetes had improved. An unexpected, additional bonus! And friends and family noticed how my great smile was almost back to the pre-accident state." She says it's a hassle to take out the Invisalign just for a snack — so she skips it. At a recent continuing education conference, in order to be back for a class after lunch, she skipped dessert and hurried to the ladies room to clean the braces and brush her teeth. "Not one person at that conference knew I was wearing them! My teeth are coming together quickly and the aligners actually feel great when they're on."Mrs. Albaugh says she appreciated the personal attention and professionalism provided by Dr. Chase and his team, and their desire to replicate her original smile that she missed."
Dr. Chase of ARCH says, "Our patients range from 4 to 84+. There is no age limit for Invisalign nor for traditional braces. The process is similar for all patients, regardless of age. Teeth will straighten but the amount of time it takes depends on the complexity of the case.  For older patients, the key is having the manual dexterity to remove the aligners for eating and brushing.  With a free consultation, there is nothing to lose to find out more about your treatment."
Mrs. Albaugh, who grew up on her father's huge produce farm in West Bridgewater, is a four-time cancer survivor who never lost her positive take on the world. She says, "I've had a wonderful life. I learned that even when bad things happen, good comes out of it. I believe when you smile, you show what kind of person you are, and your smile brings out the best in you and brightens everyone else's day." ARCH, the Official Orthodontist of Miss Massachusetts, offers free initial consultation (a $500 value) and interest-free financing.
–  By Stanley Hurwitz /   (508) 269-0570  /  stanhurwitz@gmail.com