Multidisciplinary Team Joins Forces in Unusual Restoration Project
(Issued Winter 2019) — When Jane Floyd smiles, you'd never know that many of the teeth you see are not where they used to be.
Jane's 'teeth story' started at age six at a Vermont school when she fell and broke a new front 'adult' tooth. The local dentist couldn't put the tooth back. As Jane grew, her teeth shifted dramatically. In fifth grade, her parents took her to an Orthodontist where she was fitted with a retainer.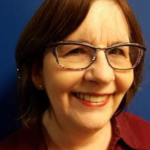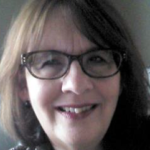 She was self-conscious about her smile throughout school, while serving in the National Guard for six years, and working as a bank administrative assistant: "I got tired of looking at my crooked, jutting teeth and bad spacing," she laments. "A niece called me 'uni-tooth.' I joked that the song 'All I want for Christmas…' was about my front teeth." (Photos: Jane's 'before' and 'after' smiles)
While planning her first marriage – a late first love at age 61 – Jane decided it was time to finally fix her teeth and her smile. Along with spacing, asymmetry was an issue because so many teeth had shifted positions through the decades. Dr. Andrew Chase of ARCH Orthodontics shares, "In cases like Jane's, our Orthodontist acts as 'quarterback' for the highly trained and experienced multidisciplinary team." In this case, the team included a general dentist and a periodontist. The treatment plan included altering Jane's gum lines as well as the use of several crowns following her orthodontic treatment and set up.
He says, "Key to successful outcomes is close collaboration and coordination among team members and the patient, cutting-edge diagnostics, and ongoing patient communication. The best reward is the gratitude, success and personal growth experienced by Jane who now enjoys a healthy and normal-looking smile. This great outcome is something we value, especially in the most challenging cases."
Dr. Chase adds, "Our incredible team addressed issues including tooth size, tooth shape, tooth position, missing teeth, gum health, and bone health as well as desired overall appearance. This involved taking Jane's input and very creative thinking, and sharing the patient's and team's design and desired outcome in order to have achievable, amazing and enduring results. We had to meet esthetic needs, time constraints, and investment parameters." Jane, so excited about the results, says, "They succeeded and exceeded in all areas, Everyone who sees me says, 'You look so different with two front teeth.' And there's a huge change in my bite and my self-image."
Dr. Chase says, "It is wonderful to have a team that gives their all to ensure a fulfilling Orthodontic experience and outcome. This is an extraordinary case with phenomenal results which truly expresses the passion with which we approach each unique case to create a life-altering change."
ARCH, with 9 offices between Boston and Hyannis, offers free initial consultation (a $500 value), and interest-free financing. The practice has a Pediatric Dentistry office in Stoughton. Veterans and members of the military and their families receive a courtesy discount. For more info and/or a no-obligation appointment, contact us at (781) 209-6776.