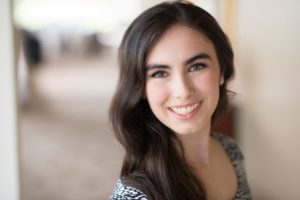 (Issued Winter 2018)  — Dr. Karissa Koster, a passionate and personable Pediatric Dentist, has joined the staff of ARCH Orthodontics. She is the first Pediatric Dentist on the staff.
On the appointment, ARCH's Dr. Andrew Chase says, "Adding Pediatric Dentistry complements our service and expands the options we've provided to patients of all ages since 1974. Now, under one roof, we offer a wealth of specialized training in caring for young and developing smiles. During these important years, a specialist can make positive, vital changes to your child's total health and help develop their wonderful unique smile. Children and adolescents continue to benefit from the best and most appropriate professional and friendly care – conveniently."
Dr. Koster says, "I became interested in dentistry because of Orthodontics. The day I got my braces at age 10, I was amazed at how the Orthodontist could fix my smile. From that day, I knew dentistry was for me and I worked hard to make that dream come true. I enjoy focusing on preventive care to help each child gain a healthy smile that will last a lifetime. And when needed for consultation, it's great having Orthodontic colleagues in the same office. So convenient for parents, too. My favorite days are when a young, nervous patient comes in, learns to trust me, and leaves with a new outlook and excitement about the dentist. That is the biggest reward."
Dr. Koster did her undergraduate work at Stonehill College and earned her dental degree at Tufts University School of Dental Medicine. During dental school, she volunteered at Bridge Over Troubled Waters, a safe haven for homeless and troubled teens who need dental care.
She became Chief Resident at her Pediatric Dental Residency at The Lutheran Medical Center in Holyoke, MA, where she learned how rewarding the profession can be. Dr. Koster, who has been providing pediatric dental care on the South Shore, is a member of the American Dental Association and the American Academy of Pediatric Dentistry. In her spare time, she enjoys time with her family and friends, and exploring new places.
Dr. Chase says the ARCH team has extensive experience working with children with special needs. Also, ARCH is among the first practices in the area to certify that its offices are gluten-free. "Most people are surprised to learn that some common dental materials and products contain gluten, a proteins found in wheat."
To make an appointment at one of ARCH's 9 offices, call (781) 209-6776. ARCH offers free initial consultation (a $500 value), and interest-free financing. Veterans and members of the military and their families receive a courtesy discount.
  –  By Stanley Hurwitz /  (508) 269-0570  /   stanhurwitz@gmail.com