April Is National Facial Protection Month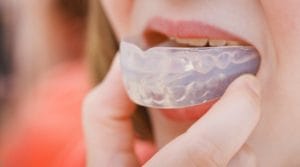 (Issued Spring 2017)  —  It's Spring and that means watch out for baseballs, footballs and other outdoor flying things!
Since April is National Facial Protection Month, Dr. Andrew Chase of ARCH Orthodontics thinks it's an ideal time to remind everyone that each year more than two million teeth get knocked out in sport-related injuries, and countless braces and teeth are damaged or broken.
Dr. Chase says sports-related accidents can be easily prevented with the use of sports safety equipment like helmets and mouth guards. Whether you have braces or not, it's common sense to take the time to insert a mouth guard to help cushion a blow, minimizing the risk of broken teeth and injuries to your lips, tongue, face or jaw.  A mouth guard should be an essential piece of athletic gear, part of your standard equipment.
Dr. Chase says that ARCH Orthodontics will provide a mouth guard for any patient in active treatment who's involved in team sports. The practice creates custom mouth guards for patients of all ages. He offers a few timely tips:
Because your teeth are moving, don't use mouth guards that custom form to your teeth. Use a properly fitted mouth guard which provides a barrier between the braces,  cheeks and lips.
In case of any accident involving the face, check your mouth and the appliances and contact ARCH immediately. If teeth are loosened or the appliances damaged, contact your Orthodontist.
Although some mouth guards only cover the upper teeth, your Orthodontist may suggest a mouth guard on the lower teeth if you have braces on them. 
If you have a retainer or other removable appliance, don't wear it during contact sports.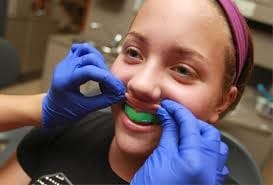 "A mouth guard should fit well, should be tough enough to withstand tears, should be comfortable and allow the wearer to breathe normally," says Dr. Chase.  "We want you to have fun and play hard — without harming your gorgeous smile," he smiles.
ARCH, Official Orthodontist of Miss Massachusetts, offers free initial consultation and interest-free financing. ARCH has 9 offices between Boston and Cape Cod. For more info contact: (781) 209-6776.              
–  By Stanley Hurwitz /   508-269-0570  /  stanhurwitz@gmail.com