Smile! You Have Lots of Reasons to Be Thankful… and your smile is one of them!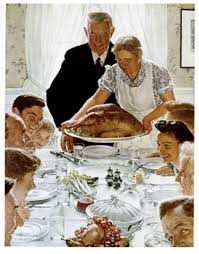 (Issued Fall 2017)  — November is 'National Gratitude Month' – very fitting since Thanksgiving falls on the fourth Thursday of the month.
Most of us recall the story of how the first Thanksgiving was celebrated by the Pilgrims after their first harvest in the New World (in Plymouth, Mass.). The celebration of thanks lasted three days, and was attended by 53 Pilgrims and 90 Native Americans.
"We are very fortunate today to live in the greatest country, and a healthy America needs healthy citizens," says Dr. Andrew Chase of ARCH Orthodontics. "Life is full of things to be thankful for – and that makes us smile.  Some people are lucky to be born with a great smile. For others, Orthodontic treatment fixes crooked or poorly spaced teeth. And as our patients tell us, having a great smile is an investment which will reap benefits for a lifetime. A healthy and attractive smile creates a better impression on the outside that permeates from the inside. It can improve your social life and even help you advance in your work life." Since its founding in 1974, ARCH has improved smiles for over 25,000 patients from 4 to 84.
Dr. Chase suggests that each of us spend time this month reflecting on the meaning of gratitude and being thankful — an essential ingredient of a happy, fulfilling life. He notes, "One research study showed that practicing daily gratitude can enhance our moods, decrease stress and drastically improve our overall level of wellbeing. When you begin to reflect on what you're thankful for, you  find your attitude shifting and a sense of calm overcomes you. This can be particularly useful in the midst of the chaos of work stress and overload, tensions with family or friends, and general malaise about the world."
He says there are studies showing how practicing gratitude creates a positive impact.  One study from the Greater Good Science Center at the University of California, Berkeley, found that practitioners of gratitude have stronger immune systems, lower blood pressure; more joy, optimism, and happiness; more generosity and compassion; and fewer feelings of loneliness and isolation.
ARCH recently completed a comprehensive study and determined it is among the first practices in its service area between Boston and Hyannis to certify that all its materials and equipment are gluten-free.
To make an appointment at one of ARCH's 9 offices, call (781) 209-6776. ARCH, the Official Orthodontist of Miss Massachusetts, offers free initial consultation (a $500 value), and interest-free financing. Veterans and members of the military and their families receive a courtesy discount.
–  By Stanley Hurwitz /   (508) 269-0570  /   stanhurwitz@gmail.com