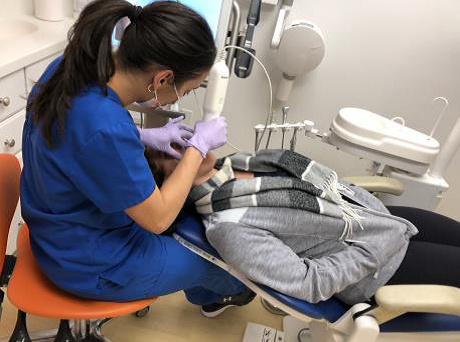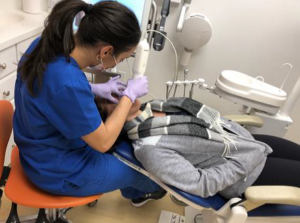 (Issued Winter 2019) —ARCH Orthodontics has introduced a 'magic wand' that can aid in patient diagnosis and treatment. According to Dr. Andrew Chase, the iTero intraoral scanner is a leading-edge digital technology game-changer that enables patients to better visualize and understand their overall oral health and view their exam in real time — while allowing doctors to more efficiently and effectively assess and address spacing and bite issues. It also improves impression accuracy for better-fitting aligners.
ARCH is scanning all patients who are candidates for this type of technology, or where doctors feel it would usage would enhance their treatment planning and outcomes. ARCH has 9 offices between Boston and Hyannis.
"We're continuously seeking new technologies and techniques," says Dr. Chase who's been practicing since 1998 and is a past President of the Mass. Association of Orthodontists. "With our proven track record of improving smiles for well over 30,000 patients of all ages, ARCH understands that when you're unhappy with your smile, it's hard to feel confident. We build confidence."
The digital scanner technology improves patient experience because, with treatment simulation, patients know what to expect and are more confident in their diagnosis and treatment plan. Enhanced scanning captures images at 6,000 frames per second to create precise 3-D dental images. It is especially useful as an Invisalign outcome simulator. Digital scans can be shared with other dental professionals. Clear aligners are one of today's most popular teeth-straightening aids as they're effective, removable, and virtually undetectable. Another benefit is 'time lapse' technology which captures tooth wear, recession, movement over time, and answers common questions such as 'Are my teeth drifting?' and 'Are my gums receding?' It dramatically/ and graphically shows patients the potential results of clenching, grinding and, sleep issues, and shows how cosmetic work will look. Digital scans can be directly sent to a lab, improving communication and hastening digital workflows.
ARCH Orthodontics is among the first practices in its service area to certify that its offices are 100% gluten-free. This is important for those with celiac disease or gluten sensitivity. Surprisingly, gluten is a common additive in dental products containing plastic. In addition, dental equipment may have non-dietary gluten that can heighten symptoms.
Among other ARCH Orthodontics' leading-edge offerings are: custom-made mouth guards; orthotic devices to relieve sleep apnea and TMJ/neck pain; and a new type of appliance that can speed alignment, often cutting treatment time by 50%. ARCH also offers 3D Cone Beam Computed Tomography (CBCT), making possible a higher level of diagnosis, treatment and outcomes.
For an appointment at any of ARCH's 9 convenient offices, call (781) 209-6776. ARCH offers free initial consultation (a $500 value), and interest-free financing. The practice has a Pediatric Dentistry office in Stoughton. Veterans and members of the military and their families receive a courtesy discount. For more info and/or a no-obligation appointment, contact us at (781) 209-6776.
– By Stanley Hurwitz / 508-269-0570 / stanhurwitz@gmail.com