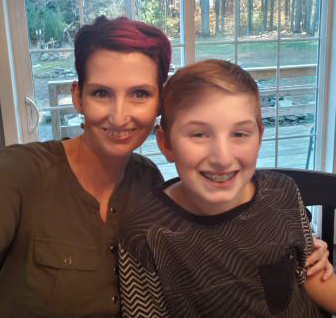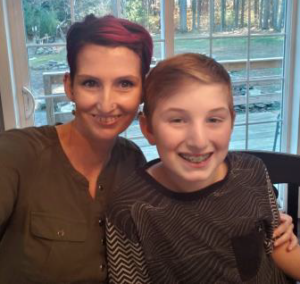 (Issued WINTER 2019) — Jessica Grigoriadis, a 38 year-old Westwood mother of three, was suffering from excessive, non-stop mouth pain. She had braces and thought the pain was caused by a combination of three things: clenching her teeth while asleep, braces, and fibromyalgia that makes nerves hyper-sensitive. She says, "I couldn't sleep and was taking pain relievers around the clock." (Photo: Jessica and son, also an ARCH braces patient)
At her next appointment at ARCH Orthodontics' Westwood office where Dr. Andrew Chase was addressing Jessica's crowded teeth and recessed jaw issues, Treatment Coordinator Amanda DeJesus discussed Jessica's unrelenting pain and brought it to Dr. Chase's attention.
The team suggested using AcceleDent® in conjunction with Jessica's braces. AcceleDent was developed to accelerate teeth movement into desired positions, guided by braces. It also can ease discomfort sometimes associated with wearing braces.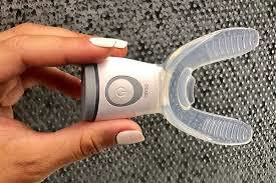 "By combining the AcceleDent device (see photo) with braces," Dr Chase says, "we relieved Jessica's pain without interrupting her Ortho regimen." The patient puts the hands-free AcceleDent mouthpiece around their existing braces for 20 minutes a day. Gentle micropulses travel through tooth roots into nearby bone, speeding up the movement of teeth into the desired position 50% faster while reducing pain by up to 71%." The treatment is approved by the FDA and has been used successfully by thousands of patients since 2009. Jessica says, "By the fourth day, I started noticing the difference. I definitely get a much more restful sleep as I don't wake up with pain. It's great to feel more rested and it's easier to get up when that alarm goes off! I use Acceledent every evening. I no longer wake up feeling like I clenched my teeth all night. I appreciate this opportunity to share my story and to help others."
Another patient, an anxious bride-to-be, came to ARCH less than a year before her wedding. "With AcceleDent, we completed her Orthodontic therapy in time for the photos on the big day," smiles Dr. Chase.
ARCH Orthodontics is among the first practices in its service area to certify that its offices are 100% gluten-free. To make an appointment at any of ARCH's 9 convenient offices, call (781) 209-6776. ARCH offers free initial consultation (a $500 value), and interest-free financing. The practice operates a Pediatric Dentistry office in Stoughton. Veterans and members of the military and their families receive a courtesy discount. For more info and/or a no-obligation appointment, Contact us at (781) 209-6776.
– By Stanley Hurwitz / 508-269-0570 / stanhurwitz@gmail.com