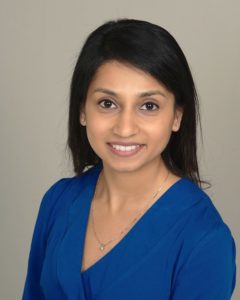 (Issued Winter 2017-18)  —  The start of the new year will bring Dr. Sita Patel to the ARCH Orthodontics team where she will improve the smiles and confidence of patients at ARCH offices in Bridgewater and on Cape Cod in Hyannis and Orleans.
The announcement was made by Dr. Andrew Chase and by his father, Dr. Robert Chavez, who founded ARCH over 43 years ago.
In December, Dr. Patel graduated from Seton Hill University's Center for Orthodontics in Greensburg, PA, receiving her M.S. degree and Certificate in Orthodontics. She earned her undergraduate degree at the University of Maryland-College Park, and completed dental school at Temple University where she  earn her D.M.D.  Orthodontists receive 2-3 years of additional training beyond dental school.
Dr. Chase said, "We are excited to add Dr. Sita to the ARCH team as she brings a wealth of experience, not only in traditional and cutting-edge Orthodontic treatments and techniques, but also in the use of Invisalign in which she has been an advanced treatment planner; on the diagnosis and management of sleep apnea with orthotic devices; and in oral and maxillofacial surgery – all areas that we focus on beyond traditional braces." He added that the addition of Dr. Patel will greatly enhance scheduling in ARCH's Bridgewater and Cape Cod offices in Hyannis and Orleans.
On joining the ARCH staff, Dr. Patel said, "As I was going through the journey to become an Orthodontist, I asked myself, 'What do I enjoy the most about dentistry?' The answer : the relationships I get to develop with patients. Orthodontics allows me to develop meaningful relationships with the families I treat. This indicated that this is the field for me. Over the course of treatment, I delight in seeing my patients grow and develop confidence with their new smiles. As I become part of the ARCH Orthodontics family, I will provide a friendly, positive experience for patients and parents alike. I am truly grateful for the opportunity to join the team!" When she's not working , Dr. Patel enjoys  reading, hiking, cooking, and going to the beach. She speaks Gujarati and some Spanish.
ARCH recently completed a comprehensive study and determined it is among the first practices in its service area– that stretches from Boston to Hyannis — to certify that all its materials and equipment are gluten-free.
To make an appointment at one of ARCH's 9 offices, call (781) 209-6776. ARCH, the Official Orthodontist of Miss Massachusetts, offers free initial consultation (a $500 value), and interest-free financing. Veterans and members of the military and their families receive a courtesy discount.
–  By Stanley Hurwitz /   508-269-0570  /   stanhurwitz@gmail.com