"I love giving people the confidence to smile and interact with others."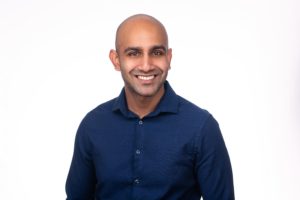 Dr. Raman Samra (Issued WINTER 2018-19) — Dr. Raman Samra, the newest addition to the clinical team at ARCH Orthodontics, was midway through his dental school studies when his interest in Orthodontics was sparked: One of his patients – upon receiving a full denture prosthesis — became speechless with joy and gratitude. "That's when I decided that giving an individual the confidence to smile, laugh and interact with others was what I wanted to do with my life," he smiles.
Dr. Samra, who earned his Masters of Science in Dentistry, CAGS in Orthodontics, and his Doctor of Dental Medicine, magna cum laude, from Boston University's Henry M. Goldman School of Dental Medicine, is working at ARCH's Brockton office, assuming Dr. Cohen's patients there, and at their Randolph to increase availability.
In making the announcement, Dr. Andrew Chase, who manages ARCH's nine offices between Hyde Park and Hyannis, said, "Dr. Samra brings a unique combination of technical skills, excellent patient interaction, plus enthusiasm and dedication to our profession, patients and community. He epitomizes our motto, 'Creating generations of beautiful smiles.'" Dr. Chase's father, Dr. Robert Chavez, founded ARCH 45 years ago.
"I believe ARCH chose me because of my commitment to creating great smiles for all ages that can improve a person's confidence and light up the room," Dr. Samra says. "It's exciting to be at the forefront of digital dentistry, clear aligner treatment and other leading-edge technologies."
Dr. Samra served as an Orthodontic Resident at Boston's Franciscan Hospital for Children and performed general dentistry at Brockton Community Health Center. In 2015, he joined a 10-day mission to Panama where he provided dental restorations and oral health education for underserved children. He is a member of the American Association of Orthodontists and the American Dental Association. In his spare time, he enjoys, traveling, exploring new restaurants, and playing and watching basketball.
ARCH Orthodontics is among the first practices in its service area to certify that its offices are 100% gluten-free. Among other leading-edge offerings are: custom-made mouth guards, orthotic devices to relieve sleep apnea and TMJ/neck pain; and a new type of appliance that can speed alignment, often cutting treatment time by 50%. ARCH offers 3D Cone Beam Computed Tomography (CBCT) that makes possible a higher level of diagnosis, treatment and outcomes. All patients have this access should their provider want to utilize the technology.
To make an appointment at any of ARCH's 9 convenient offices, call (781) 209-6776. ARCH offers free initial consultation (a $500 value), and interest-free financing. The practice now operates a Pediatric Dentistry office in Stoughton. Veterans and members of the military and their families receive a courtesy discount. For more info and/or a no-obligation appointment, contact (781) 209-6776.
– By Stanley Hurwitz / 508-269-0570 / stanhurwitz@gmail.com