Exceptional Skills Offered by Harvard- and Tufts-Trained Orthodontist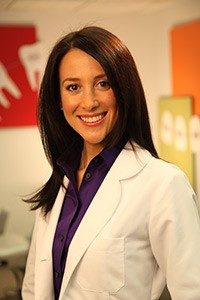 (Issued Fall/Winter 2017-18) — Dr. Adrienne B. Weisner has joined the staff of ARCH Orthodontics and is serving patients at practice locations in Stoughton and Westwood, Mass. The announcement was made by Dr. Andrew Chase.
A graduate of the Harvard School of Dental Medicine, Dr. Weisner earned her Certificate of Advanced Graduate Studies in Orthodontics from the Tufts University School of Dental Medicine, and her B.A. from Vassar College.
Dr. Chase said, "We are excited with the addition of Dr. Weisner to our team. She shares our philosophy and passion. Patients will benefit immensely from her knowledge and compassionate care."
On her appointment, Dr. Weisner said, "Orthodontics appealed to me when I was a little kid — my father and uncle are both Orthodontists. But it wasn't until dental school that I identified my own unique passion for the field. The intersection of art and science, aesthetics and function , are what make the field so exhilarating.  Developing relationships with patients during a two-year treatment is the most personally rewarding aspect of my job and these relationships get me excited to head to the office every day. My goal is to create exceptional outcomes for patients who place their trust in me;  honoring that responsibility is an essential part of who I am. Being a part of the transformation in a patient's self-confidence, culminating in the braces-removal and the unveiling of a brand new, beautiful smile is awe-inspiring."
She said, "I'm especially excited to join a practice with such an impressive track record spanning more than four decades, a leader employing the latest advancements in treatments and techniques."
One of Dr. Weisner's favorite anecdotes: A 14-year old patient required a permanent tooth to be extracted. She requested the tooth from her dentist and created an elaborate composition of silver wire to hold the tooth which she now wears as a pendant around her neck: "An Orthodontist in the making!"
Dr. Weisner, a Board Certified member of the American Association of Orthodontists, is Chair of the Merrimack Valley District Dental Society. Volunteer activities include Operation Mouthguard at Harvard where she educated young adults about oral health, and Project Bridge where she provided dental care to homeless adults. Among outside interests are skiing, cooking, dancing, swimming, gardening, theater, music and travel. She is conversant in Spanish.
To make an appointment at one of ARCH's 9 offices, call (781) 209-6776. ARCH offers free initial consultation (a $500 value), and interest-free financing. Veterans and members of the military and their families receive a courtesy discount.
   –  By Stanley Hurwitz /   (508) 269-0570 /   stanhurwitz@gmail.com