ARCH Orthodontics Marks 43 Years Serving Stoughton Community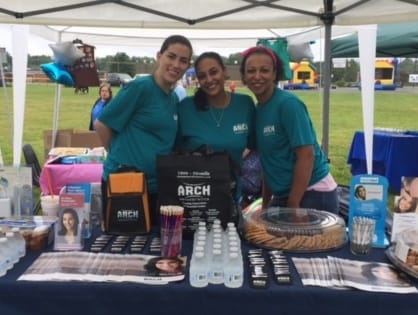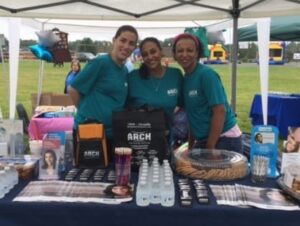 (Issued Summer 2017) — ALL SMILES AT STOUGHTON DAY 2017 are ARCH Orthodontics team members (left to right) Shannon Freeman, Treatment Coordinator / Team Leader; Dulce Monteiro, Treatment Coordinator; and Ana Fernandes, Financial Coordinator / Team Leader.
ARCH Orthodontics was founded by Dr. Robert Chavez near Stoughton Center in 1974. Today, his son Dr. Andrew Chase leads a highly-skilled team in 9 offices between Boston and Hyannis.
The practice has earned a five-star reputation as a leader in its field, introducing the latest treatments, tools and techniques to address issues related to misaligned teeth or spacing. It has built a loyal following across the region. New treatments introduced in recent years include state-of-the art dental orthotics that can remedy sleep apnea and TMJ, and micropulse technology and 21st century dental orthopedics designed to cut braces time by up to 50%. The practice is always seeking treatments that are simpler, faster, more comfortable – and often less expensive. Dr. Chase estimates that ARCH has improved the smiles and self-confidence for over 25,000 people ranging in age from 4 to 84.
Dr. Chase says, "In addition to straightening teeth and fixing space issues, we also use latest technologies to focus on correcting your bite which many 'short-course' treatments like 6-month smiles do not address. That's why it's critical to have Orthodontic treatment performed by an Orthodontist rather than a non-specialist. I urge anyone who wants to improve their looks — and their outlook — to call today for an appointment at one of our 9 convenient offices – (781) 209-6776."
ARCH, the Official Orthodontist of Miss Massachusetts, offers free initial consultation (a $500 value) and interest-free financing. There are courtesy discounts for members of the military, veterans and their families, and for municipal workers and their families in towns where ARCH has offices. For more info contact (781) 209-6776.
– By Stanley Hurwitz / (508) 269-0570 / stanhurwitz@gmail.com