Practice Introduces 21st Century Technologies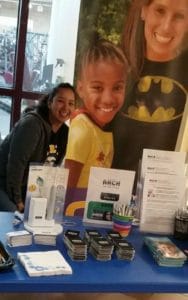 (Issued Spring/Summer 2017)  — LET A SMILE BE YOUR UMBRELLA! A little rain didn't dampen the spirits of attendees at the Stoughton YMCA 'Healthy Kids Day' event designed to help educate families on fun ways to stay active and grow with healthy spirit, mind and body. Scores of families visited the ARCH Orthodontics display.
"Healthy Kids Day is a tradition for ARCH as it ties in nicely with our mission of promoting healthy smiles and good oral hygiene habits for all ages," says Dr. Andrew Chase. "ARCH Orthodontics has a long tradition of supporting family and youth activities and sports teams in and near towns where we have offices.  Our mission is to provide extraordinary results and amazing smiles."  Dr. Chase estimates that the practice, founded by his father Dr. Robert Chavez, has improved the smiles of over 25,000 patients ranging in age from 6 to 86.
Dr. Chase says initial exams are recommended by age 7. Orthodontic work for girls usually begins around ages 10-15, and for boys,  ages 11-16.  Today, about 30% of ARCH's braces patients are adults.  One Spring/Summer focus, Dr. Chase says, is getting the right mouth guards for anyone involved in sports.
For those seeking 'accelerated Orthodontics,' ARCH offers AcceleDent NOW, a high-tech regimen that can cut the time a patient needs braces by up to 50%.  Using AcceleDent once per day speeds up bone remodeling with tiny vibrations. Dr. Chase says, "While the Orthodontist works to move teeth in specific directions, the vibrations accelerate the bones surrounding your teeth to speed up the movement."
For people of any age suffering from obstructive sleep apnea (OSA), ARCH doctors adeptly evaluate the patient and fit him/her with a custom orthotic device that can be more comfortable, less invasive, and less costly than traditional CPAP therapy. Dr. Chase is concerned about airways and airway development. He says, "Expert evaluation and appropriate treatment can prevent or correct OSA and improve overall medical health. With the right orthotics, we create an environment that results in quality sleep and reduction of issues associated with poor skeletal growth, unhealthy bites, and tooth alignments – all of which can constrict tongue space and impinge the oral cavity and throat."
ARCH Orthodontics offers courtesy discounts to veterans and all those currently serving in any branch of the U.S. Armed Forces, and their families, and to municipal employees working in towns where ARCH has offices and their immediate families. Now in its 43rd year, ARCH Orthodontics has offices in Stoughton and six other communities south of Boston plus two on Cape Cod, in Hyannis and Orleans.  ARCH offers free initial consultation – a $500 value – and no-interest financing. For more information and/or appointments contact (781) 209-6776. ARCH is the Official Orthodontist of Miss Massachusetts.
–  By Stanley Hurwitz /  stanhurwitz@gmail.com