Among the first to perform comprehensive study in its service area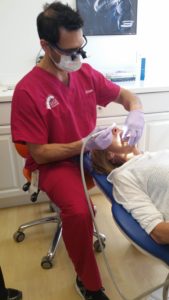 (Issued Fall 2017)  — ARCH Orthodontics is among the first practices in its service area– that stretches from Boston to Hyannis  — to certify that its offices are gluten-free.
According to Dr. Andrew Chase, "Most people are surprised to learn that some common dental materials and products contain gluten." Gluten is the common name given to proteins found in wheat.
He adds, "There's so much concern regarding unintentional sources of gluten, we certainly didn't want parents worrying unnecessarily about their children's retainers and other materials we use. We completed exhaustive research throughout our 9 offices and can confirm that ARCH Orthodontics is celiac friendly, completely gluten-free.  Surprisingly, toothpaste may also be a source of gluten which is why we were sure to research the contents and specifically rely on gluten-free pre-pasted brushes, available for every patient at each visit. Since the mouth is part of the gastrointestinal tract, our clinical staff is trained to investigate for oral symptoms of gluten sensitivity."
Dr. Chase explains that besides finding gluten in wheat products, there are non-dietary sources of gluten used in the manufacture of products such as plastics, dental equipment, and cosmetics. Some types of Orthodontic retainers contain a plasticized methacrylate polymer, a gluten derivative that is a common additive in plastics. He emphasized that, based on case studies, there does not seem to be enough information to demonstrate a true cause and effect between retainer use and gluten levels.
For ARCH's research, the staff used Material Safety Data Sheets (MSDS) to investigate materials used in all types of traditional and invisible braces, and when unknown, ARCH contacted individual manufacturers. MSDS is a widely-used system for cataloging information on chemicals, chemical compounds and mixtures, and includes instructions for the safe use and potential hazards associated with a particular material or product.
Most patients might shrug, but for the 18 million Americans with gluten sensitivities, exposure can lead to digestive discomfort, abdominal pain, foggy thinking, chronic headache, joint pain, skin rashes and chronic fatigue. Some with gluten sensitivity may have the autoimmune disorder celiac disease, an inherited condition which affects an individual's ability to digest gluten that can lead to a toxic reaction that can damage the small intestine. "We are proud of our 43-year track record of helping to build our patients' looks and outlooks – always to the highest standards of our industry," Dr. Chase said.
To make an appointment at one of ARCH's 9 offices, call (781) 209-6776. ARCH, the Official Orthodontist of Miss Massachusetts, offers free initial consultation (a $500 value), and interest-free financing. Veterans and members of the military and their families receive a courtesy discount.
–  By Stanley Hurwitz /   (508) 269-0570  /   stanhurwitz@gmail.com